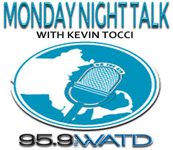 Monday Night Talk is a local radio show that's broadcast weekly on 95.9FM WATD in Marshfield, MA. Kevin Tocci, who has serves as host since late 2010, invites guests to discuss a variety of topics like politics, local & national issues, community issues, upcoming events, sports, pop culture and the arts..
Episodes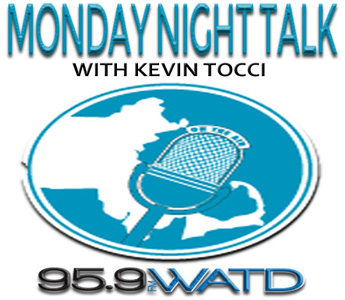 Saturday Feb 27, 2016
Saturday Feb 27, 2016
Bob Halloran, a special guest on this segment of Monday Night Talk, is an award winning journalist, movie consultant, sports writer and author, who recently released his newest book, White Devil: The True Story of the First White Asian Crime Boss. Bob share insight into the book's main character; John Willis, aka White Devil, the only white man to ever rise through the ranks in the Chinese mafia. Willis began as an enforcer, riding around with other gang members to "encourage" people to pay their debts. He soon graduated to even more dangerous work as a full-fledged gang member, barely escaping with his life on several occasions. Do you have an topic for a future show or info on an upcoming community event? Email us at mondaynighttalk@gmail.com or "like" and post a comment on our Facebook page: www.facebook.com/mondaynighttalkon959fmwatd. If you're a fan of the show and enjoy our segments, you can either download your favorite segment from this site or subscribe to our podcasts through iTunes today!  © Monday Night Talk with Kevin Tocci - 2016. Unauthorized use and/or duplication of this material without express and written permission from the show host and/or owner is strictly prohibited.
 .