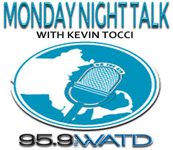 Monday Night Talk is a 2 hour radio show that's broadcast weekly on 95.9FM WATD in Marshfield, MA. Kevin Tocci invites guests to discuss a variety of topics like politics, local & national issues, community issues, upcoming events, sports, pop culture and the arts..
Episodes
Friday Oct 18, 2013
Friday Oct 18, 2013
Monday Night Talk host Kevin Tocci is joined by Michelle McKenzie and Chuck Givonetti, of the Animal Protection Center of Southeastern, MA to talk about their upcoming event; the 5th Annual Paws in the Park! The fundraiser, which is on Sunday, October 20th, is being held on the grounds of the NRT Sheep Pasture. This is a day of fun for the whole family to support the APC. For more details about the event, listen to this podcast and also visit their website: http://www.apcsm.org
Do you have an topic for a future show or info on an upcoming community event? Email us at mondaynighttalk@gmail.com or "like" and post a comment on our Facebook page
If you're a fan of the show and enjoy our segments, you can either download your favorite segment from this site or subscribe to our podcasts through iTunes today!
Sunday Apr 14, 2013
Sunday Apr 14, 2013
Monday Night Talk host Kevin Tocci and Joe Rossi are visited by Hathaway, Chuck Givonetti and Michelle McKenzie from the Animal Protection Center of Southeastern Massachusetts to talk about their upcoming annual event, "Paws for Celebration."   Chuck and Michelle discuss some of the things that the center does like its new partnership with Paws New England, how the center raises money and cares for animals that have been mistreated or abused. Have an idea for a future segment or a question for a guest who is scheduled to appear on the show? Email us at mondaynighttalk@gmail.com. Also if you're a fan of the show and enjoy some of our featured segments, you can subscribe to our podcasts through iTunes today! www.apcsm.org