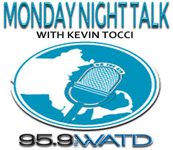 Monday Night Talk is a 2 hour radio show that's broadcast weekly on 95.9FM WATD in Marshfield, MA. Kevin Tocci invites guests to discuss a variety of topics like politics, local & national issues, community issues, upcoming events, sports, pop culture and the arts..
Episodes
Saturday Feb 01, 2014
Saturday Feb 01, 2014
Deb Kirsch is a guest on this installment of Monday Night talk!!! Deb is the owner and trainer at Looking Glass Farm in Middleborough, a full service horse farm with lessons for adults and children and horse training and boarding. She's also the Regional Supervisor for the Southern New England Region (S.N.E.R.) of Pony Club, an national organization serving over 10,000 young people teaching sportsmanship, stewardship and leadership through horsemanship. It works like Little League or 4H for Horse Enthusiasts. Deb was appointed last year to the national board of governors of Pony Club and just returned from a general meeting in Oregon. S.N.E.R. is made up of numerous clubs throughout Southeastern Mass and Rhode Island. S.N.E.R. Pony Club Winterfest takes place this Sunday, February 2 from 9-3 at the Jordan/Jackson Elementary School in Mansfield.For information call Deb at 508-946-3527 or contact through southeastern.ponyclub.org or search for SNER Pony Club on Facebook.
Do you have an topic for a future show or info on an upcoming community event? Email us at mondaynighttalk@gmail.com or "like" and post a comment on our Facebook page:
If you're a fan of the show and enjoy our segments, you can either download your favorite segment from this site or subscribe to our podcasts through iTunes today!