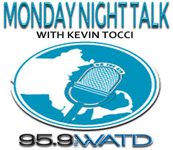 Monday Night Talk is a 2 hour radio show that's broadcast weekly on 95.9FM WATD in Marshfield, MA. Kevin Tocci invites guests to discuss a variety of topics like politics, local & national issues, community issues, upcoming events, sports, pop culture and the arts..
Episodes
Friday Feb 03, 2017
Friday Feb 03, 2017
Monday Night Talk's Kevin Tocci and Peter Brown host a special segment that features great group of guys who play a role in covering Boston area sports and producing material whether as a member of the media or fan-based blogs. The conversation kicks off with George Kippenhan who shares details on the newest video he's in with Nick Stevens called, Shit Pats Fans Say, which can be found on Townienews.com and on YouTube. Author & writer for www.barstoolsports.com Jerry Thornton and Kerry Byrne from ColdHardFootballFacts.com are added to the mix to talk about the Patriots making it to Super Bowl 51, their opponent the Atlanta Falcons and who will ultimately win the big game! 
Do you have an topic for a future show or info on an upcoming community event? Email us at mondaynighttalk@gmail.com or "like" and post a comment on our Facebook page: www.facebook.com/mondaynighttalkon959fmwatd. If you're a fan of the show and enjoy our segments, you can either download your favorite segment from this site or subscribe to our podcasts through iTunes today!  © Monday Night Talk with Kevin Tocci - 2017. Unauthorized use and/or duplication of this material without express and written permission from the show host and/or owner is strictly prohibited.