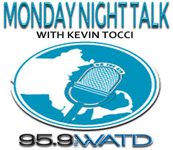 Monday Night Talk with Kevin Tocci is a local radio show that's broadcast weekly on 95.9FM WATD in Marshfield, MA. Kevin Tocci, who has serves as host since late 2010, invites guests to discuss a variety of topics like politics, local & national issues, community issues, upcoming events, sports, pop culture and the arts..
Episodes
Sunday Nov 20, 2016
Sunday Nov 20, 2016
Private investigator Michelle Littlefield is a guest on this segment of Monday Night Talk! Michelle calls into the program to discuss the annual walk to retrace the steps of Jennifer Lynn Fay who has been missing for twenty-seven years. Fay went missing six weeks shy of her 17th birthday from the very neighborhood she had lived in her entire life. Michelle also talks about strides that have been made since the investigation was reopened several years ago. Do you have a topic for a future show or info on an upcoming community event?  Email us at mondaynighttalk@gmail.com or "like" and post a comment on our Facebook page: www.facebook.com/mondaynighttalkon959fmwatd. If you're a fan of the show and enjoy our segments, you can either download your favorite segment from this site or subscribe to our podcasts through iTunes today!  © Monday Night Talk with Kevin Tocci - 2016. Unauthorized use and/or duplication of this material without express and written permission from the show host and/or owner is strictly prohibited.
Pictured left to right; Michelle Littlefield and Jennifer Lynn Fay.