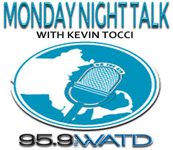 Monday Night Talk is a 2 hour radio show that's broadcast weekly on 95.9FM WATD in Marshfield, MA. Kevin Tocci invites guests to discuss a variety of topics like politics, local & national issues, community issues, upcoming events, sports, pop culture and the arts..
Episodes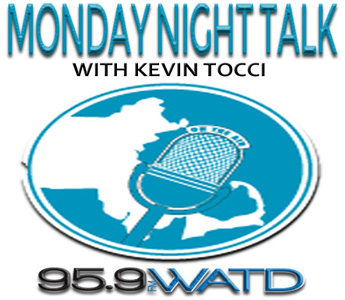 Friday Dec 25, 2015
Friday Dec 25, 2015
Geoffrey Yalenezian and Karen Brennan Fontana from Brennan's Smoke Shoppes along with legislative agent Guy Glodis and Steven Hefler founder of Cambridge Citizens for Smokers Rights are guests on this episode of Monday Night Talk! Geoff is joined in studio by Steve and Guy to discuss a number of tobacco releated issues such as what they learned during the tobacco tax initiative, work done at the State House regarding the taxing of tobacco, Massachusetts communities that are raising or have raised the smoking age to 21 and what the group will be working on in 2016! Do you have an topic for a future show or info on an upcoming community event? Email us at mondaynighttalk@gmail.com or "like" and post a comment on our Facebook page: www.facebook.com/mondaynighttalkon959fmwatd. If you're a fan of the show and enjoy our segments, you can either download your favorite segment from this site or subscribe to our podcasts through iTunes today!  © Monday Night Talk with Kevin Tocci - 2015. Unauthorized use and/or duplication of this material without express and written permission from the show host and/or owner is strictly prohibited.
Pictured left to right: Guy Glodis, Steven Hefler, Karen Brennan Fontana and Geoffrey Yalenezian.