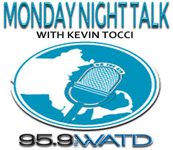 Monday Night Talk is a 2 hour radio show that's broadcast weekly on 95.9FM WATD in Marshfield, MA. Kevin Tocci invites guests to discuss a variety of topics like politics, local & national issues, community issues, upcoming events, sports, pop culture and the arts..
Episodes
Thursday Mar 06, 2014
Thursday Mar 06, 2014
Captain Bill Monte from the National Geographic Channel's, Wicked Tuna is a special guest on Monday Night Talk! Bill calls in to talk with host Kevin Tocci and Bob Hayes about the 3rd season of the popular show that's filmed off the Massachusetts coast. After retiring five years ago, Captain Bill Monte decided to pursue his true passion, and became owner and captain of the Bounty Hunter, a 35-foot craft built in 2003. Together with his wife and deckhand Donna — one of the few women working in the industry — the duo became part-time professional fishermen, spending their "golden years" fishing bluefin tuna and running charters. After a disappointing season last year, times are tough for the Bounty Hunter. As fuel and maintenance costs continue to grow, it's critical that the captain and crew put meat on the deck this year. With their reputation — and their livelihoods — on the line, the team is more determined than ever to turn their luck around. Wicked Tuna follows a group of salty fishermen from the nation's oldest seaport, Gloucester, as they make their living the way it's been done for centuries — rod and reel fishing, one catch at a time — all in pursuit of the bluefin tuna. One "monstah" bluefin can be worth more than $20,000, and with that kind of money on the line, every captain is fighting to be the best in the fleet.
Do you have an topic for a future show or info on an upcoming community event? Email us at mondaynighttalk@gmail.com or "like" and post a comment on our Facebook page:
If you're a fan of the show and enjoy our segments, you can either download your favorite segment from this site or subscribe to our podcasts through iTunes today!