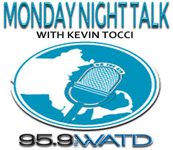 Monday Night Talk is a 2 hour radio show that's broadcast weekly on 95.9FM WATD in Marshfield, MA. Kevin Tocci invites guests to discuss a variety of topics like politics, local & national issues, community issues, upcoming events, sports, pop culture and the arts..
Episodes
Thursday May 23, 2013
Thursday May 23, 2013
Monday Night Talk host Kevin Tocci, Joe Rossi and guest host Bob Hayes speak with NStar spokesman Michael Durand, NStar Senior Arborist Bill Hayes, Pembroke Town Administrator Ed Thorne, Hanson Selectman Chairman Steve Amico, plus Martha Lauber, Greg O'Neal and Jennifer Niles, who are members of Save Duxbury trees from NStar citizen group about the issue of cutting trees along power lines that run through a number of communities on the South Shore. The main complaint is that NStar has cut or is looking to cut trees that are along an easement or Right of Way (ROW) to prevent any possible power outages in the future due to trees that could fall upon the lines. Duxbury residents say what the utility company is proposing is excessive, while NStar reps say they're willing to work with residents who have concerns.  Have an idea for a future show or info on an upcoming community event? Email us at mondaynighttalk@gmail.com. If you're a fan of the show and enjoy our segments, you can either download your favorite segment from this site or subscribe to our podcasts through iTunes today!