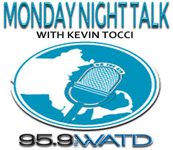 Monday Night Talk is a 2 hour radio show that's broadcast weekly on 95.9FM WATD in Marshfield, MA. Kevin Tocci invites guests to discuss a variety of topics like politics, local & national issues, community issues, upcoming events, sports, pop culture and the arts..
Episodes
Saturday Jun 06, 2015
Saturday Jun 06, 2015
WATD's Bob Parkis and former Brockton Mayor Jack Yunits are special guest for this segment of Monday Night Talk! Bob and Jack each offer an opposing view on a proposal to build a $650 million resort casino in Brockton on the site of the Fairgrounds. Bob questions whether such a development should be located so close to a school (the property is across the street from Brockton High School) as Jack looks at how the city of Brockton will benefit from the project. Do you have an topic for a future show or info on an upcoming community event? Email us at mondaynighttalk@gmail.com or "like" and post a comment on our Facebook page: www.facebook.com/mondaynighttalkon959fmwatd. If you're a fan of the show and enjoy our segments, you can either download your favorite segment from this site or subscribe to our podcasts through iTunes today!  © Monday Night Talk with Kevin Tocci - 2015. Unauthorized use and/or duplication of this material without express and written permission from the show host and/or owner is strictly prohibited.