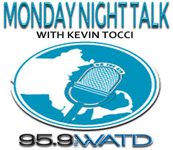 Monday Night Talk is a 2 hour radio show that's broadcast weekly on 95.9FM WATD in Marshfield, MA. Kevin Tocci invites guests to discuss a variety of topics like politics, local & national issues, community issues, upcoming events, sports, pop culture and the arts..
Episodes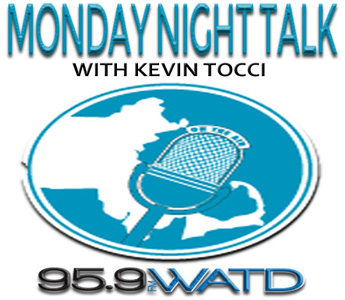 Tuesday Jul 28, 2015
Tuesday Jul 28, 2015
Attorney Marc Harrold is a special guest on this episode of Monday Night Talk! Marc has a long, impressive resume that outlines his work as an attorney, work with all levels of law enforcement, including Homeland Security and ICE, plus his appearance and contributions as a legal and political analysts for a number of media outlets like print, radio and national television. During this segment, Marc provides insight to the country's ongoing issue with terrorism, lone wolf acts and what can be done to better anticipate such acts without encroaching on personal freedoms that we are granted by the Constitution. To find out more about Marc, visit his website; marcharrold.com. Do you have an topic for a future show or info on an upcoming community event? Email us at mondaynighttalk@gmail.com or "like" and post a comment on our Facebook page: www.facebook.com/mondaynighttalkon959fmwatd. If you're a fan of the show and enjoy our segments, you can either download your favorite segment from this site or subscribe to our podcasts through iTunes today!  © Monday Night Talk with Kevin Tocci - 2015. Unauthorized use and/or duplication of this material without express and written permission from the show host and/or owner is strictly prohibited.