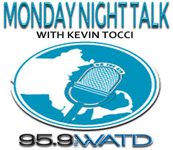 Monday Night Talk is a 2 hour radio show that's broadcast weekly on 95.9FM WATD in Marshfield, MA. Kevin Tocci invites guests to discuss a variety of topics like politics, local & national issues, community issues, upcoming events, sports, pop culture and the arts..
Episodes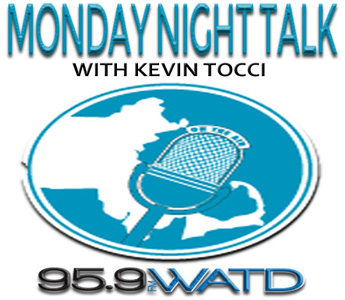 Thursday Jul 30, 2015
Thursday Jul 30, 2015
John Horrigan, host of The Folklorist and show producers & co-directors Angel Harrer and Andrew Eldridge are guests on this segment of Monday Night Talk. The Folklorist is a half-hour Emmy award winning television series produced by NewTV, a community access television station located in Newton, Massachusetts. The series explores some of the unique and lesser-known stories throughout history. Each half-hour episode of the show contains 3-4 featured segments that go into the backstory and lasting effects of a particular topic of folklore. John, Andrew and Angela share details of how they each became involved with the program, how the show has evolved over the past couple of years, what goes into creating each segment and the future of the show itself. To learn more or watch segments or entire shows please visit folklorist.newtv.org/. Do you have an topic for a future show or info on an upcoming community event? Email us at mondaynighttalk@gmail.com or "like" and post a comment on our Facebook page: www.facebook.com/mondaynighttalkon959fmwatd. If you're a fan of the show and enjoy our segments, you can either download your favorite segment from this site or subscribe to our podcasts through iTunes today!  © Monday Night Talk with Kevin Tocci - 2015. Unauthorized use and/or duplication of this material without express and written permission from the show host and/or owner is strictly prohibited.