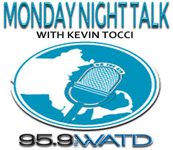 Monday Night Talk is a 2 hour radio show that's broadcast weekly on 95.9FM WATD in Marshfield, MA. Kevin Tocci invites guests to discuss a variety of topics like politics, local & national issues, community issues, upcoming events, sports, pop culture and the arts..
Episodes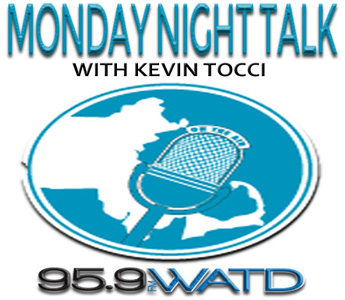 Saturday Sep 05, 2015
Saturday Sep 05, 2015
Superstar drummer, motivational speaker and author Rick Redmond along with drummer and businessman Jimmy Pemberton are guests on this special segment of Monday Night Talk! Rich, who happened to be in town performing with Jason Aldean stops by the WATD studios to discuss his career as a drummer, being an author, motivational speaker and his work to become an actor. He also discusses his work with Jimmy to help aspiring musicians who are entering the music business. Mr Redmond is an influential touring/recording drummer/percussionist based in Nashville, Tennessee and Los Angeles, California. His versatile, dynamic, and rock-solid drumming is the sound behind many of today's top talents.  When he's not in the studio or on tour Rich is motivating others with his "CRASH Course for Success" a meticulously crafted program that anyone can follow to achieve success and the author of "FUNdamentals of Drumming for Kids." A musical showman in the spirit of Gene Krupa, Rich has toured/recorded/performed with Jason Aldean, Ludacris, Kelly Clarkson, Bryan Adams, Joe Perry, Jewel, Miranda Lambert, Luke Bryan, Eric Church, Brantley Gilbert, John Eddie, Pam Tillis, Susan Ashton, Deana Carter, Kid Rock, Lauren Alaina, Trace Adkins, Randy Owens, Marty Stuart, Mindy McReady, Rushlow, Gene Watson, John Anderson and many others. As the drumming powerhouse behind Grammy nominated mega star JASON ALDEAN, Rich has recorded 20 #1 singles with over 7 million albums sold and well over 13 million single downloads. As a high-energy live showman, Rich plays sold out shows of 20-60,000 fans nightly in amphitheaters, arenas and stadiums across North America. To learn more about Rich and the different projects he's working on, check out his website; richredmond.com. Do you have an topic for a future show or info on an upcoming community event? Email us at mondaynighttalk@gmail.com or "like" and post a comment on our Facebook page: www.facebook.com/mondaynighttalkon959fmwatd. If you're a fan of the show and enjoy our segments, you can either download your favorite segment from this site or subscribe to our podcasts through iTunes today!  © Monday Night Talk with Kevin Tocci - 2015. Unauthorized use and/or duplication of this material without express and written permission from the show host and/or owner is strictly prohibited.
Rich Redmond (left) at the WATD studios with Jimmy Pemberton (right).