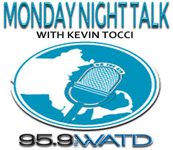 Monday Night Talk with Kevin Tocci is a local radio show that's broadcast weekly on 95.9FM WATD in Marshfield, MA. Kevin Tocci, who has serves as host since late 2010, invites guests to discuss a variety of topics like politics, local & national issues, community issues, upcoming events, sports, pop culture and the arts..
Episodes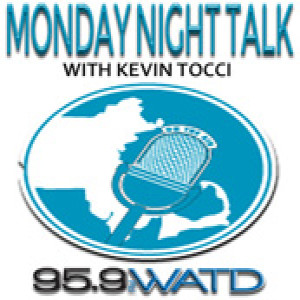 Sunday Apr 18, 2021
Sunday Apr 18, 2021
The State House Report with State Representative Josh Cutler, who will provide the latest info from the state house and news on his newest committee assignment. 
Robert Cinnante, newly appointed president of the South Shore Conservatory will talk about some of the summer programs the conservatory will be offering this summer. Halifax Elementary & Silver Lake School Committee Member Summer Schmaling and Jennifer Carol continue the discussion regarding the controversy over a peace flag that was put on display a few weeks ago in the elementary school's classroom. Note: A segment was held on Monday Night Talk with residents and students who were in favor of the flag being displayed.
Do you have an topic for a future show or info on an upcoming community event? Email us at mondaynighttalk@gmail.com. If you're a fan of the show and enjoy our segments, you can either download your favorite segment from this site or subscribe to our podcasts through iTunes today!  © Monday Night Talk with Kevin Tocci - 2021. Unauthorized use and/or duplication of this material without express and written permission from the show host and/or owner is strictly prohibited.