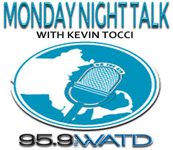 Monday Night Talk is a 2 hour radio show that's broadcast weekly on 95.9FM WATD in Marshfield, MA. Kevin Tocci invites guests to discuss a variety of topics like politics, local & national issues, community issues, upcoming events, sports, pop culture and the arts..
Episodes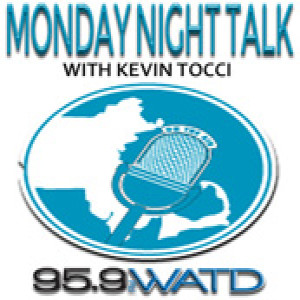 Sunday Apr 18, 2021
Sunday Apr 18, 2021
State House Report with State Representative Alyson Sullivan. She'll discuss the latest news from up on Beacon Hill, her activities in her district and efforts to volunteer at local vaccination sites. Karen Thompson, CEO of the Atlantic Symphony Orchestra will share details on what's available for new concerts and concert series along. Brockton City Council President Win Farwell will provide a COVID update as the city struggles to reduce the number of residents affected by the virus plus the pending retirements of Ward 1 City Councilor Tim Cruise and City Clerk Tony Zeoli. Kirk Minihan, who hosts a daily podcast on Barstool Sports called the Kirk Minihan Show, will stop by to talk about a project that debuts today called The Case; Season One - Boston, a true crime podcast that will focus on the disappearance of Jennifer Fay, who went missing more than 31 years ago just blocks away from her Brockton home.
Do you have an topic for a future show or info on an upcoming community event? Email us at mondaynighttalk@gmail.com. If you're a fan of the show and enjoy our segments, you can either download your favorite segment from this site or subscribe to our podcasts through iTunes today!  © Monday Night Talk with Kevin Tocci - 2021. Unauthorized use and/or duplication of this material without express and written permission from the show host and/or owner is strictly prohibited.