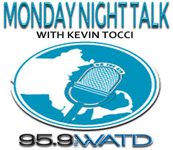 Monday Night Talk is a local radio show that's broadcast weekly on 95.9FM WATD in Marshfield, MA. Kevin Tocci, who has serves as host since late 2010, invites guests to discuss a variety of topics like politics, local & national issues, community issues, upcoming events, sports, pop culture and the arts..
Episodes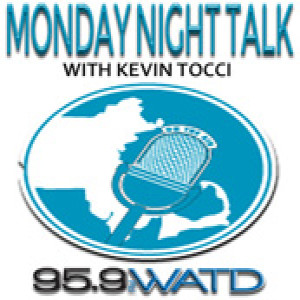 Saturday Aug 28, 2021
Saturday Aug 28, 2021
The State House Report with State Rep Steve Xiarhos. Rep. Xiarhos, who is also a Gold Star Father, talks about his first House budget, Nero's Bill and the United States recent departure from Afghanistan.
Weymouth Mayor Bob Hedlund provides an update on town news including the latest with the new master developer for Union Point. 
Brockton At-Large Councilor and Mayoral candidate Tina Cardoso talks about her past term serving on the city council during COVID and her campaign to be the city's next mayor. 
Colonel David Giammona, author of The Military Guide to Armageddon discusses his new book, how much of the information he writes about pertains to the United States' war effort in Afghanistan and possible future conflicts. 
Do you have an topic for a future show or info on an upcoming community event? Email us at mondaynighttalk@gmail.com. If you're a fan of the show and enjoy our segments, you can either download your favorite segment from this site or subscribe to our podcasts through iTunes today!  © Monday Night Talk with Kevin Tocci - 2021. Unauthorized use and/or duplication of this material without express and written permission from the show host and/or owner is strictly prohibited.