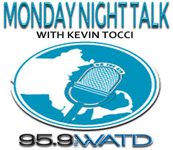 Monday Night Talk is a local radio show that's broadcast weekly on 95.9FM WATD in Marshfield, MA. Kevin Tocci, who has serves as host since late 2010, invites guests to discuss a variety of topics like politics, local & national issues, community issues, upcoming events, sports, pop culture and the arts..
Episodes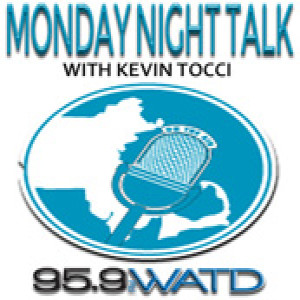 Tuesday Aug 09, 2022
Tuesday Aug 09, 2022
Kevin Tocci and Matt "Mad Dog" Nelson start the show off speaking with Plymouth County District Attorney Tim Cruz, who stops by to discuss his re-election campaign. State Senator John Keenan visits to provide a State House Report as he'll talk about the final passage of the FY23 budget and sports betting in the state. Massachusetts Hall of Fame High School Basketball coach Mary Watson provides insight on Title IX, a landmark gender equity law that passed 50 years ago in 1972 that changed women's sports. Jerry Thornton, writer for Barstool Sports drops by to talk about the New England Patriots and the start of training camp.
Do you have an topic for a future show or info on an upcoming community event? Email us at 
mondaynighttalk@gmail.com
. If you're a fan of the show and enjoy our segments, you can either download your favorite segment from this site or subscribe to our podcasts through iTunes today!  © Monday Night Talk with Kevin Tocci - 2022. Unauthorized use and/or duplication of this material without express and written permission from the show host and/or owner is strictly prohibited.