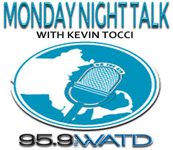 Monday Night Talk is a local radio show that's broadcast weekly on 95.9FM WATD in Marshfield, MA. Kevin Tocci, who has serves as host since late 2010, invites guests to discuss a variety of topics like politics, local & national issues, community issues, upcoming events, sports, pop culture and the arts..
Episodes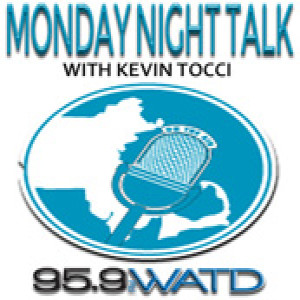 Monday Dec 27, 2021
Monday Dec 27, 2021
This week's show kicks off with State Senator Mike Brady, who discusses State Representative Claire Cronin being confirmed as an ambassador to Ireland, American Rescue Plan Act (ARPA) funding his district received and the ongoing issue with COVID. Weymouth Mayor Bob Hedlund looks at the progress his community has made with several capital projects. Plymouth County Commissioner Greg Hanley provides a year in review of the county's work with its member communities and insight into various state races on the 2022 ballot. Barstool Sports writer Jerry Thornton breaks down the New England Patriots season, the rookie quarterback Mac Jones and if Bill Belichick and Tampa Bay Buccaneers QB Tom Brady could meet in Super Bowl LVI.
Do you have an topic for a future show or info on an upcoming community event? Email us at mondaynighttalk@gmail.com. If you're a fan of the show and enjoy our segments, you can either download your favorite segment from this site or subscribe to our podcasts through iTunes today!  © Monday Night Talk with Kevin Tocci - 2021. Unauthorized use and/or duplication of this material without express and written permission from the show host and/or owner is strictly prohibited.