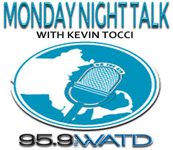 Monday Night Talk with Kevin Tocci is a local radio show that's broadcast weekly on 95.9FM WATD in Marshfield, MA. Kevin Tocci, who has serves as host since late 2010, invites guests to discuss a variety of topics like politics, local & national issues, community issues, upcoming events, sports, pop culture and the arts..
Episodes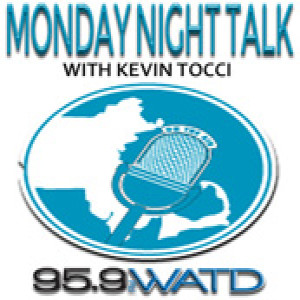 Monday Dec 13, 2021
Monday Dec 13, 2021
Roundtable discussion focused on Governor Baker's announcement to not seek a third term featuring State Rep Dave DeCoste, State Rep Kathy LaNatra, Plymouth County Commissioner Jared Valanzola and Whitman Selectman Justin Evans. Paula Fleming, chief spokesperson for the local Better Business Bureau will talk about recent finding on an investigation regarding online scams and counterfeit products. Michelle L'Heureux, a Boston Marathon survivor and spokesperson for Curaleaf's, "I cannabis" campaign, talks about using marijuana as a substitute for a variety of medication she was subscribed for relief from physical pain and PTSD.
Do you have an topic for a future show or info on an upcoming community event? Email us at mondaynighttalk@gmail.com. If you're a fan of the show and enjoy our segments, you can either download your favorite segment from this site or subscribe to our podcasts through iTunes today!  © Monday Night Talk with Kevin Tocci - 2021. Unauthorized use and/or duplication of this material without express and written permission from the show host and/or owner is strictly prohibited.