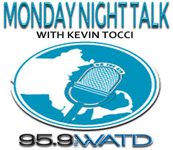 Monday Night Talk with Kevin Tocci is a local radio show that's broadcast weekly on 95.9FM WATD in Marshfield, MA. Kevin Tocci, who has serves as host since late 2010, invites guests to discuss a variety of topics like politics, local & national issues, community issues, upcoming events, sports, pop culture and the arts..
Episodes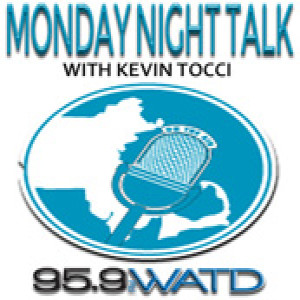 Monday Feb 07, 2022
Monday Feb 07, 2022
The radio show kicks off with Fred Fontaine discussing his campaign for State Representative in the 11th Plymouth District. State Representative Stephen Xiarhos calls in to talk about the passing of Nero's Bill and the push to pass new legislation to protect victims domestic violence and sexual assault. Bestselling author Dave Wedge, media consultant  with Seven Letter & writer for the Newsbreak app Cosmo Macero and Jared Valanzola, Host of WATD's JV Team share thoughts on NFL quarterback Tom Brady announcing his retirement after 22 years. Finally, Anne Jones Vogt, author of Wake Up & Live, talks about her new bestselling book.
Do you have an topic for a future show or info on an upcoming community event? Email us at mondaynighttalk@gmail.com. If you're a fan of the show and enjoy our segments, you can either download your favorite segment from this site or subscribe to our podcasts through iTunes today!  © Monday Night Talk with Kevin Tocci - 2022. Unauthorized use and/or duplication of this material without express and written permission from the show host and/or owner is strictly prohibited.