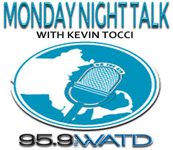 Monday Night Talk with Kevin Tocci is a local radio show that's broadcast weekly on 95.9FM WATD in Marshfield, MA. Kevin Tocci, who has serves as host since late 2010, invites guests to discuss a variety of topics like politics, local & national issues, community issues, upcoming events, sports, pop culture and the arts..
Episodes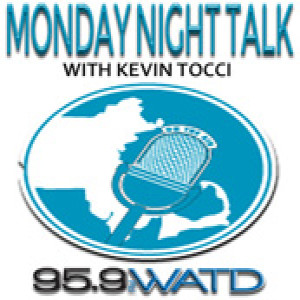 Monday Mar 15, 2021
Monday Mar 15, 2021
State Senator Susan Moran discusses a letter sent by lawmakers to Comcast regarding their plan to institute data capping. Rich McKinnon, President of the Professional Firefighters of Massachusetts Union talks about many of the first responders around the state, especially firefighters receiving the vaccination. Nicolette Pace, Celebrity Nutritionist shares tips on eating healthy in the new year. Bill Harris, founder of WH Cornerstone Investment and author of, Inheriting Your Spouse's IRA; The Widow's Guide to Keeping More of Her Assets talks about his new book.
Do you have an topic for a future show or info on an upcoming community event? Email us at mondaynighttalk@gmail.com. If you're a fan of the show and enjoy our segments, you can either download your favorite segment from this site or subscribe to our podcasts through iTunes today!  © Monday Night Talk with Kevin Tocci - 2021. Unauthorized use and/or duplication of this material without express and written permission from the show host and/or owner is strictly prohibited.