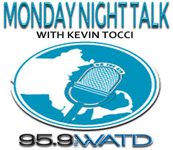 Monday Night Talk is a local radio show that's broadcast weekly on 95.9FM WATD in Marshfield, MA. Kevin Tocci, who has serves as host since late 2010, invites guests to discuss a variety of topics like politics, local & national issues, community issues, upcoming events, sports, pop culture and the arts..
Episodes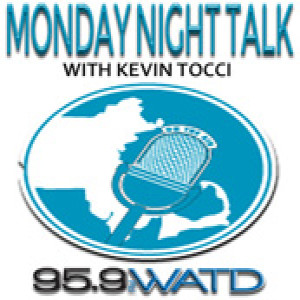 Monday Jan 31, 2022
Monday Jan 31, 2022
Gary Innes opens the radio show discussing his campaign for State Senate in the Norfolk and Plymouth District. Carlos DaSilva stops by the WATD studio to talk about running for Plymouth County Commissioner. Carlos previously ran for the same office in 2020. Joe Rossi, Executive Director of the Massachusetts Coastal Coalition shares the latest on the National Flood Insurance Program and the changes that homeowners could see. Finally, WATD's Sports Reporter Brendan Connelly and Keith Hayes from WhooBazoo.com talk about Tom Brady possibly retiring from the NFL, David Ortiz being selected to the MLB Hall of Fame, this weekend's conference championships and who will win the upcoming Super Bowl LXVI.
Do you have an topic for a future show or info on an upcoming community event? Email us at mondaynighttalk@gmail.com. If you're a fan of the show and enjoy our segments, you can either download your favorite segment from this site or subscribe to our podcasts through iTunes today!  © Monday Night Talk with Kevin Tocci - 2022. Unauthorized use and/or duplication of this material without express and written permission from the show host and/or owner is strictly prohibited.