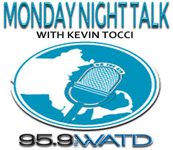 Monday Night Talk is a local radio show that's broadcast weekly on 95.9FM WATD in Marshfield, MA. Kevin Tocci, who has serves as host since late 2010, invites guests to discuss a variety of topics like politics, local & national issues, community issues, upcoming events, sports, pop culture and the arts..
Episodes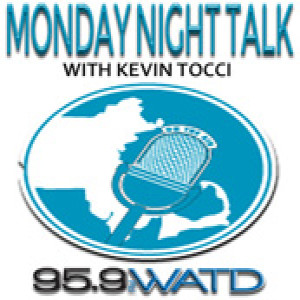 Friday Jul 16, 2021
Friday Jul 16, 2021
Plymouth County District Attorney Tim Cruz and Sheriff Joe McDonald

talk

about their upcoming TRIAD luncheon and the work that they do with the county's older population. Tom Driscoll, candidate for Pembroke Select Board will stop by to chat about his run for office and his thoughts on the upcoming town meeting on June 22. Whitman Selectman Dan Salvucci and Fred Small, member of the Whitman-Hanson Regional School Committee

talk

about a recount that was held for their respective races last

Monday

as they each won re-election by a mere six votes. Noube Rateau, an award winning filmmaker visits the show to

talk

about the Boston Celtics,  changes in the front office, coaching staff and offseason moves the team should consider making.
Do you have an topic for a future show or info on an upcoming community event? Email us at mondaynighttalk@gmail.com. If you're a fan of the show and enjoy our segments, you can either download your favorite segment from this site or subscribe to our podcasts through iTunes today!  © Monday Night Talk with Kevin Tocci - 2021. Unauthorized use and/or duplication of this material without express and written permission from the show host and/or owner is strictly prohibited.