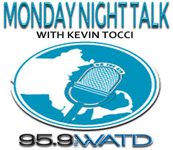 Monday Night Talk is a local radio show that's broadcast weekly on 95.9FM WATD in Marshfield, MA. Kevin Tocci, who has serves as host since late 2010, invites guests to discuss a variety of topics like politics, local & national issues, community issues, upcoming events, sports, pop culture and the arts..
Episodes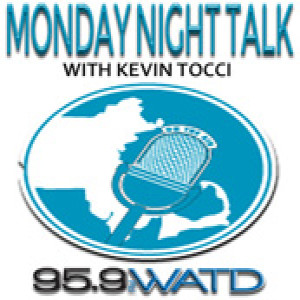 Saturday Aug 06, 2022
Saturday Aug 06, 2022
This week's show starts with a State House Report featuring State Representative Matt Muratore, who provides discussion on the latest news from Beacon Hill and around his district.
Richard Rosen, South Shore business man & local beekeeper stops by to share updates on his two restaurants, McGuiggan's Pub and The Patio.
Sharon Sullivan, Managing editor of Lawn Love calls in to discuss a recent article on the best spots around the country for beekeeping and shares tips to kickoff the start of National Pollinator Week.
Win Farwell, Brockton City Councilor calls into the show to provide insight on the city's FY2023 budget process and the latest news from the City of Champions!
Do you have an topic for a future show or info on an upcoming community event? Email us at mondaynighttalk@gmail.com. If you're a fan of the show and enjoy our segments, you can either download your favorite segment from this site or subscribe to our podcasts through iTunes today!  © Monday Night Talk with Kevin Tocci - 2022. Unauthorized use and/or duplication of this material without express and written permission from the show host and/or owner is strictly prohibited.
s!