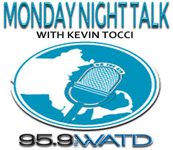 Monday Night Talk is a local radio show that's broadcast weekly on 95.9FM WATD in Marshfield, MA. Kevin Tocci, who has serves as host since late 2010, invites guests to discuss a variety of topics like politics, local & national issues, community issues, upcoming events, sports, pop culture and the arts..
Episodes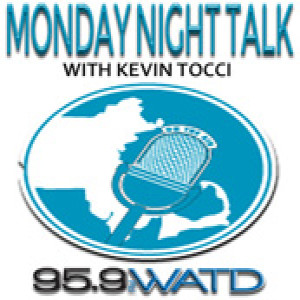 Friday Jul 16, 2021
Friday Jul 16, 2021
David Tuerck, president of the Beacon Hill Institute talks about the Millionaires Tax that will be in the state ballot in 2022. Local businessman Peter Brown and Andrew Sullivan discuss why voters should approve a proposed debt exclusion for a community center at tomorrow

night

's Pembroke's Annual Town Meeting. State Auditor Suzanne Bump visits to discuss audits that were recently done on the Massachusetts State Lottery Commission and BAMBSI (Brockton Area Multi-Service Inc). Mike Gioscia, host of Americanarama shares info on next weekends summer concert series, hosted by WATDs Almost Famous, at the Soule Homestead Education Center in Middleboro.
Do you have an topic for a future show or info on an upcoming community event? Email us at mondaynighttalk@gmail.com. If you're a fan of the show and enjoy our segments, you can either download your favorite segment from this site or subscribe to our podcasts through iTunes today!  © Monday Night Talk with Kevin Tocci - 2021. Unauthorized use and/or duplication of this material without express and written permission from the show host and/or owner is strictly prohibited.