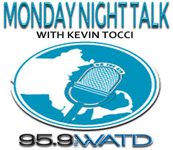 Monday Night Talk is a 2 hour radio show that's broadcast weekly on 95.9FM WATD in Marshfield, MA. Kevin Tocci invites guests to discuss a variety of topics like politics, local & national issues, community issues, upcoming events, sports, pop culture and the arts..
Episodes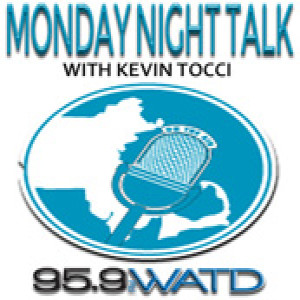 Sunday Mar 28, 2021
Sunday Mar 28, 2021
State House Report with State Representative Patrick Kearney. The Rep joins the show to discuss the anniversary of dealing with a global pandemic, plus share details on some of the legislation he's sponsored this session.
Local business owner Peter L. Brown stops by to provide insight to dealing with COVID for a year and what other South Shore businesses are doing to remain open. Brockton Mayor Robert Sullivan gives updates on COVID, talks about the rash of fires that occurred in the city last week including the one that destroyed the statehouse building at the fairgrounds plus he shares thoughts on the passing of Marvin Hagler. Radio personality Keith Hayes joins the show to talk about the NFL free agency period and the New England Patriots spending spree to rebuild the team.
Do you have an topic for a future show or info on an upcoming community event? Email us at
mondaynighttalk@gmail.com
. If you're a fan of the show and enjoy our segments, you can either download your favorite segment from this site or subscribe to our podcasts through iTunes today!  © Monday Night Talk with Kevin Tocci - 2021. Unauthorized use and/or duplication of this material without express and written permission from the show host and/or owner is strictly prohibited.