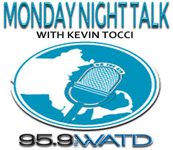 Monday Night Talk is a 2 hour radio show that's broadcast weekly on 95.9FM WATD in Marshfield, MA. Kevin Tocci invites guests to discuss a variety of topics like politics, local & national issues, community issues, upcoming events, sports, pop culture and the arts..
Episodes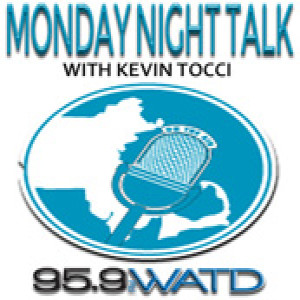 Thursday Jul 15, 2021
Thursday Jul 15, 2021
Plymouth County Commissioner Sandra Wright visits to provide a county update and latest news. Dr. Nathan Chomilo will breakdown administering the COVID vaccine to children between the age of 12-15 year old, discussing the frequently asked concerns and questions. Local business owner Richard Rosen stops by to

talk

about the spring market and how the housing stock shortage is affecting the market. Rob Hakala, Program Director of WATD, WBMS & WMEX and Host-producer of the South Shore's Morning News will discuss how the three radio stations fared during the pandemic and what the future holds as COVID restrictions are lifted.
Do you have an topic for a future show or info on an upcoming community event? Email us at mondaynighttalk@gmail.com. If you're a fan of the show and enjoy our segments, you can either download your favorite segment from this site or subscribe to our podcasts through iTunes today!  © Monday Night Talk with Kevin Tocci - 2021. Unauthorized use and/or duplication of this material without express and written permission from the show host and/or owner is strictly prohibited.