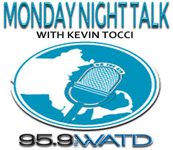 Monday Night Talk is a local radio show that's broadcast weekly on 95.9FM WATD in Marshfield, MA. Kevin Tocci, who has serves as host since late 2010, invites guests to discuss a variety of topics like politics, local & national issues, community issues, upcoming events, sports, pop culture and the arts..
Episodes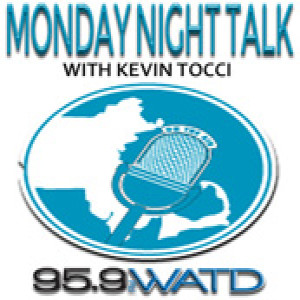 Monday Jun 06, 2022
Monday Jun 06, 2022
This Memorial Day show starts with the State House Report with State Representative Dave DeCoste. Retired Navy Seal Anthony O'Brien Sr. stops by to discuss the time he dedicates to memorial services and educated the youth on honoring those who sacrificed their lives for our freedom. Travis Partington, Host of Oscar Mic Radio talks about dealing with the loss of those he served with, while Gold Star son Richard Fitts Jr. provides insight about his documentary, 21 Years a Folded Flag, a film that sought out answers to what happed to his father SGGT Richard Fitts Sr., a Green Beret who died in Laos in 1968. Child Development Author Dr. Vermelle D. Greene discusses Uvalde school shooting and whether it's time to arm teachers.
Do you have an topic for a future show or info on an upcoming community event? Email us at mondaynighttalk@gmail.com. If you're a fan of the show and enjoy our segments, you can either download your favorite segment from this site or subscribe to our podcasts through iTunes today!  © Monday Night Talk with Kevin Tocci - 2022. Unauthorized use and/or duplication of this material without express and written permission from the show host and/or owner is strictly prohibited.