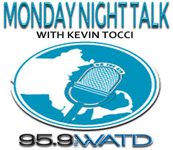 Monday Night Talk is a local radio show that's broadcast weekly on 95.9FM WATD in Marshfield, MA. Kevin Tocci, who has serves as host since late 2010, invites guests to discuss a variety of topics like politics, local & national issues, community issues, upcoming events, sports, pop culture and the arts..
Episodes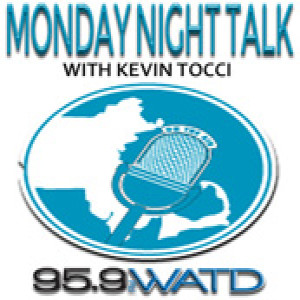 Wednesday Oct 05, 2022
Wednesday Oct 05, 2022
Plymouth County Commissioner Sandra Wright opens the show with a county update. State Senator Michael Brady visits to discuss a meeting he held over the weekend with a group of community members. The second hour features a roundtable discussion with Plymouth County Treasurer Tom O'Brien and County Commissioner Jared Valanzola about the Primary election and races to watch on Tuesday. The segment also opens the phone line for any candidate who want to call in with a last minute message for voters.
Do you have an topic for a future show or info on an upcoming community event? Email us at mondaynighttalk@gmail.com. If you're a fan of the show and enjoy our segments, you can either download your favorite segment from this site or subscribe to our podcasts through iTunes today!  Monday Night Talk with Kevin Tocci, Copyright © 2022.