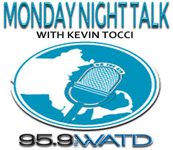 Monday Night Talk is a local radio show that's broadcast weekly on 95.9FM WATD in Marshfield, MA. Kevin Tocci, who has serves as host since late 2010, invites guests to discuss a variety of topics like politics, local & national issues, community issues, upcoming events, sports, pop culture and the arts..
Episodes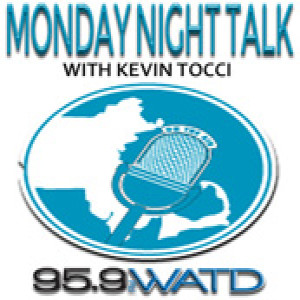 Monday Sep 13, 2021
Monday Sep 13, 2021
The radio show kicks off with the County Update from Plymouth County Commissioner Jared Valanzola. Richard Rosen, owner of McGuiggan's Pub & The Patio in downtown Whitman discusses the upcoming McGuiggan's 5k Road Race, being held on September 26. The 20th Anniversary of 9/11 is later this week, with many communities around the state holding services. Christine James, WATD's managing news editor shares her insight on the events of September 11, 2001 and where she was at the time our country came under attack. Kerry Byrne, founder of Cold Hard Football Facts dot com stops by to talk about the start of the NFL season, will Tom Brady and the Buccaneers win back-to-back Super Bowls and the new look New England Patriots.
Do you have an topic for a future show or info on an upcoming community event? Email us at mondaynighttalk@gmail.com. If you're a fan of the show and enjoy our segments, you can either download your favorite segment from this site or subscribe to our podcasts through iTunes today!  © Monday Night Talk with Kevin Tocci - 2021. Unauthorized use and/or duplication of this material without express and written permission from the show host and/or owner is strictly prohibited.