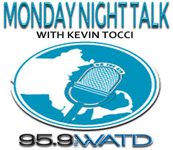 Monday Night Talk is a 2 hour radio show that's broadcast weekly on 95.9FM WATD in Marshfield, MA. Kevin Tocci invites guests to discuss a variety of topics like politics, local & national issues, community issues, upcoming events, sports, pop culture and the arts..
Episodes
Tuesday Aug 27, 2019
Tuesday Aug 27, 2019
Check out this Monday Night Talk radio program from August 26, 2019 with hosts Kevin Tocci and Richard Rosen! Kevin and Richard talk with State Representative Kathy LaNatra about Dancing with the Dignitaries which is being hosted by the Plymouth County Suicide Prevention Coalition; Richard Rosen shares updates about his new restaurant, The Patio at McGuiggan's; State Senator Patrick O'Connor talks about the FY2020 budget along with Tommy's Bill, Puppy Mill sale ban legislation and Emergency Assistance Shelter Program Policy Change; Stanley Chase III founder of Louisville's Vegan Jerky provides insight on the growing alternative meat industry; Hanson Selectmen Chair Laura FitzGerald-Kemmett discusses her board's goals and Mike Gioscia, host or WATD's Americanarama and Executive Director of Plymouth Rocks Events, shares details on two great shows; The Imagination Movers (9/14) at Plymouth Memorial Hall and Julie Rhodes (9/15) at the Spire Center in Plymouth!!!
Do you have an topic for a future show or info on an upcoming community event? Email us at mondaynighttalk@gmail.com or "like" and post a comment on our Facebook page: www.facebook.com/mondaynighttalkon959fmwatd. If you're a fan of the show and enjoy our segments, you can either download your favorite segment from this site or subscribe to our podcasts through iTunes today!  © Monday Night Talk with Kevin Tocci - 2019. Unauthorized use and/or duplication of this material without express and written permission from the show host and/or owner is strictly prohibited.