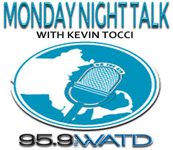 Monday Night Talk with Kevin Tocci is a local radio show that's broadcast weekly on 95.9FM WATD in Marshfield, MA. Kevin Tocci, who has serves as host since late 2010, invites guests to discuss a variety of topics like politics, local & national issues, community issues, upcoming events, sports, pop culture and the arts..
Episodes
Saturday Feb 01, 2020
Saturday Feb 01, 2020
Here's the latest Monday Night Talk podcast from January 27, 2020! Host Kevin Tocci speaks with State Representative Dave DeCoste about Massachusetts Governor Charlie Baker's State of the Commonwealth address and gives an update on legislation he's filed; Joe Rossi, Executive Director of the Massachusetts Coastal Coalition discusses the latest with the National Flood Insurance Program and chances to flood insurance policies in 2020; Automotive expert Junior Damato shares insight on the industry and newest vehicles he's test driven and Ed Perry, owner of WATD talks about two new radio stations, WMEX 1510AM and WBMS 1460AM, coming online in the spring!!!
Do you have an topic for a future show or info on an upcoming community event? Email us at mondaynighttalk@gmail.com or "like" and post a comment on our Facebook page: www.facebook.com/mondaynighttalkon959fmwatd. If you're a fan of the show and enjoy our segments, you can either download your favorite segment from this site or subscribe to our podcasts through iTunes today!  © Monday Night Talk with Kevin Tocci - 2020. Unauthorized use and/or duplication of this material without express and written permission from the show host and/or owner is strictly prohibited.