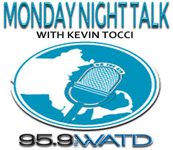 Monday Night Talk is a local radio show that's broadcast weekly on 95.9FM WATD in Marshfield, MA. Kevin Tocci, who has serves as host since late 2010, invites guests to discuss a variety of topics like politics, local & national issues, community issues, upcoming events, sports, pop culture and the arts..
Episodes
Sunday Nov 03, 2019
Sunday Nov 03, 2019
Here's the newest Monday Night Talk radio show podcast from October 28, 2019! MNT Host Kevin Tocci opens the show with Plymouth Select Board member John Mahoney, who announces that he's a candidate for the Plymouth Barnstable State Senate seat that will soon be vacated by Senator Vinny deMacedo; Brockton Mayoral Forum moderated by WATD managing news editor Christine James featuring the two candidates, Robert Sullivan and Jimmy Pereira and Victoria Bond stops by to share details on a fundraiser she will be performing in, Shirley Valentine, on November 2 & 3 at the Reed Community Room in Kingston, MA. 
Do you have an topic for a future show or info on an upcoming community event? Email us at mondaynighttalk@gmail.com or "like" and post a comment on our Facebook page: www.facebook.com/mondaynighttalkon959fmwatd. If you're a fan of the show and enjoy our segments, you can either download your favorite segment from this site or subscribe to our podcasts through iTunes today!  © Monday Night Talk with Kevin Tocci - 2019. Unauthorized use and/or duplication of this material without express and written permission from the show host and/or owner is strictly prohibited.