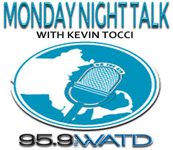 Monday Night Talk is a 2 hour radio show that's broadcast weekly on 95.9FM WATD in Marshfield, MA. Kevin Tocci invites guests to discuss a variety of topics like politics, local & national issues, community issues, upcoming events, sports, pop culture and the arts..
Episodes
Thursday Oct 10, 2019
Thursday Oct 10, 2019
Check out this Monday Night Talk radio program from October 7, 2019 with hosts Kevin Tocci and Richard Rosen! Kevin and Richard speak with Brockton City Council President and Mayoral Candidate Robert Sullivan about his run for higher office; State Representative Josh Cutler stops by for a legislative update; Richard Rosen shares updates about his restaurants McGuiggan's Pub & The Patio at McGuiggan's; Retired Whitman Police Chief Scott Benton talks about his thirty-three years in law enforcement; Jen Maseda, CEO & Founder of She's Local, discusses the organization's upcoming South Shore Conference for Women and Patrik Jonsson, President of Curaleaf Massachusetts talks about the Curaleaf Hanover facility celebrating its second anniversary!!!
Do you have an topic for a future show or info on an upcoming community event? Email us at mondaynighttalk@gmail.com or "like" and post a comment on our Facebook page: www.facebook.com/mondaynighttalkon959fmwatd. If you're a fan of the show and enjoy our segments, you can either download your favorite segment from this site or subscribe to our podcasts through iTunes today!  © Monday Night Talk with Kevin Tocci - 2019. Unauthorized use and/or duplication of this material without express and written permission from the show host and/or owner is strictly prohibited.